Main content starts here, tab to start navigating
Menus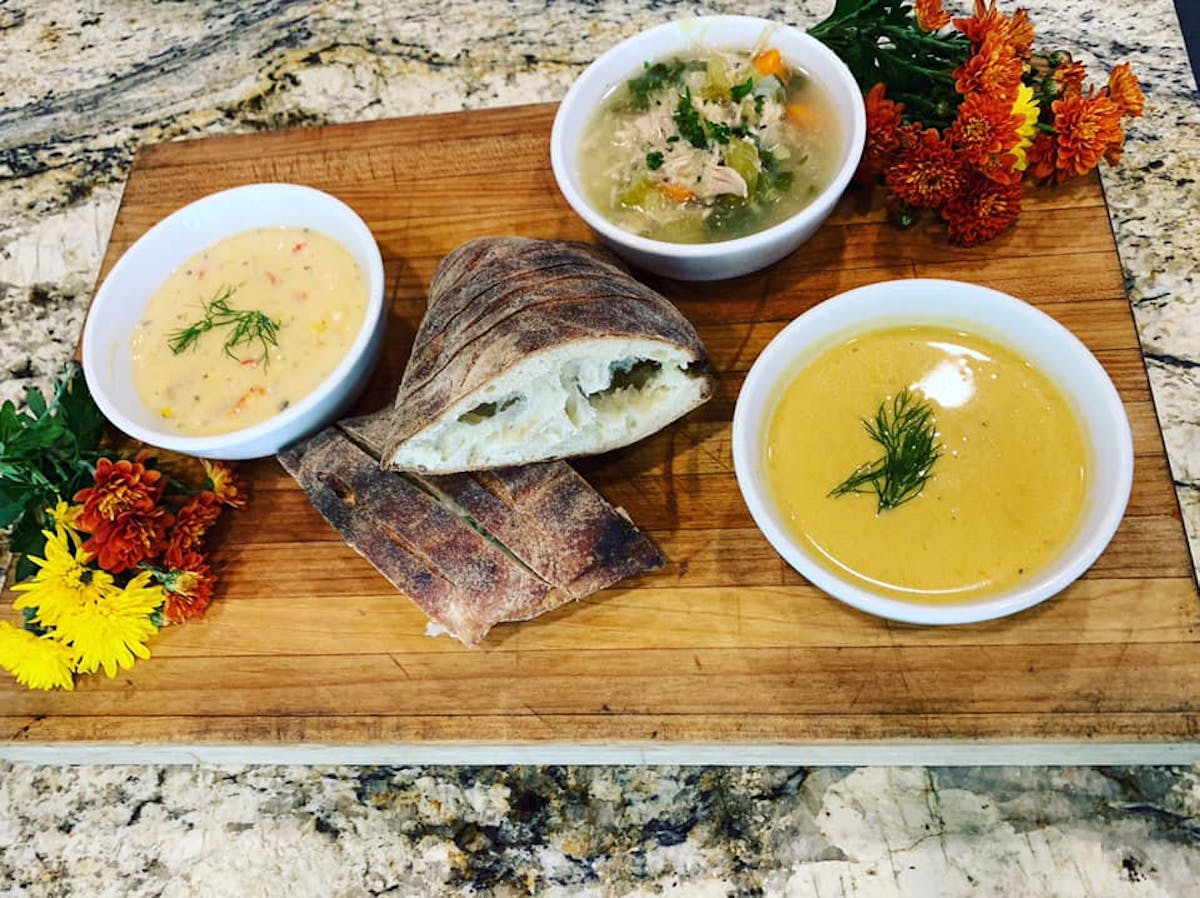 Antipasto
Fried Mozzarella

Fresh wedge of mozzarella cheese, lightly coated and fried, topped with homemade marinara

$8.99

Cheese Plate (serves 3-6)

Chef's choice of various imported cheese and fresh compliments

$18.99

Fried Calamari

A generous portion of fresh, tender squid lightly floured and deep fried. Served with lemon wedges and homemade marinara sauce

$16.99

Garlic Knot & Artichoke Dip

Spinach artichoke dip made with ricotta, mozzarella and white cheddar cheeses baked between 20 to 25 minutes. Served with garlic knots

$12.99

Garlic Knots

$6.99

Prosciutto Wrapped Figs

Italian figs with a dollop of blue cheese wrapped in a thin slice of prosciutto. Finished with a balsamic reduction

$8.99

Clams Casino Bruschetta

Chopped clams sautéed in a medley of pancetta, red peppers, onions, scallions, aged pecorino and spices

$12.99

Vero Chips & Dip

Fresh cut to order chips, lightly floured and seasoned, served with our chipotle barbecue sauce

$6.99

Panecotte

Mixed greens, white beans, and pancetta seasoned in a blend of herbs & spices then baked and topped with mozzarella

$8.99

Fried Zucchini

Fresh zucchini, coated & fried, served with housemade creamy dill cucumber sauce

$9.99

Mussels Marinara

Plump mussels in a red or white sauce served with crostini

$18.99

Seafood Stuffed Mushrooms

Four jumbo mushrooms stuffed with a delicious blend of crabs, shrimp, crackers and seasoning

$11.99

Fresh Jumbo Wings

Hand-breaded wings with your choice of sauce. Buffalo, Mild, Medium, Hot, Smoking Joe Hickory BBQ, Red Thai Chili, Bourbon, Teriyaki, Garlic Parmesan, Sesame

(6) $9.99

(12) $15.99

Arancini Di Riso

Crispy Sicilian rice balls stuffed with mozzarella cheese, served in marinara sauce

$6.99

Tuscan Fried Artichokes

Lightly floured served with marinara or creamy dill sauce

$9.99
Insalata
Roasted Beet, Spinach & Feta

Baby spinach, feta chunks, and candied pecans, topped with warm oven-roasted red beets and a light honey dijon

$13.99

House

Chopped romaine, cherry tomatoes, English cucumber, our candied pecans, gorgonzola, black olives and croûtons

$12.99

Warm Mushroom

Sautéed mushrooms, baby arugula, warm goat cheese and pecorino shavings with red wine lemon vinaigrette

$13.99

Caprese

Sliced seasonal tomatoes layered between fresh mozzarella & fresh basil, drizzled with EVOO and a balsamic reduction

$12.99

Caesar

Chopped romaine prepared in a housemade Caesar Dressing including anchovies, grated romano, pecorino shavings, and croûtons

$13.99

Arugula & Warm Goat Cheese

Baby arugula, goat cheese, our candied pecans and craisins, with a raspberry vinaigrette

$14.99

Sicilian Chef

Chopped romaine, salami, crispy bacon bits, provolone and mozzarella, black olives, tomato, and homemade croûtons, choice of dressing

$15.99

Dressings

Honey Dijon Vinaigrette, Red Wine Lemon Vinaigrette, Raspberry Vinaigrette, Caesar (Anchovies), Creamy Italian, Peppercorn Ranch, Balsamic, Ranch, Bleu Cheese

Add Grilled Chicken $8

Shrimp $10

Steak $10

Salmon $12
Pasta
Spaghetti & Meatballs

Traditional spaghetti noodles cooked al dente in house marinara sauce, served with homemade meatballs

$16.99

Wine Pairing: Doña Paula Malbec $7 - $26

Gnocchi

Ricotta and potato cheese dumplings served in a red or white cream sauce

$18.99

Eggplant Parmesan

Classic Italian/American dish baked in our house marinara served over pasta

$17.99

Wine Pairing: Red Rock Merlot $7 - $26

Spaghetti Carbonara

Thin spaghetti and crispy pancetta tossed in a creamy béchamel sauce with pecorino romano cheese

$22.99

Wine Pairing: Vicolo Pinot Noir $6 - $29

Stuffed Manicotti

Pasta shells filled with a blend of ricotta mozzarella, and spinach, topped with house marinara sauce, served with a homemade meatball

$20.99

Wine Pairing: Vicolo Pinot Noir $6 - $29

Eggplant Rolatini

Hearty cut slices of breaded eggplant filled with creamy ricotta, mozzarella, and spinach with marinara sauce. Baked until golden and served with a side of pasta with our homemade marinara sauce

$19.99

Wine Pairing: Dofia Paula Malbec $7 - $26

Baked Penne

Penne pasta tossed with ricotta cheese and marinara sauce. Covered in mozzarella cheese and baked golden brown, topped with a jumbo homemade meatball

$18.99

Penne Vodka

Tender penne pasta tossed in a rich tomato vodka cream sauce, topped with Parmesan cheese

$17.99

Pasta Alfredo

Choice of pasta tossed in a creamy Parmesan cream sauce

$18.99

Add Chicken $8

Shrimp $10

Steak $10

Salmon $12
Carne
Angus Sliders

Three mini Angus burgers, hand rolled with caramelized onions and a dollop of creamy goat cheese inside, served on our own baked slider rolls with housemade to order potato chips

$19.99

Wine Pairing: Joel Gott Cabernet $9 - $34

Roast Pork Loin

Slices of tender marinated pork loin and au jus. Seasoned with fresh rosemary, spices, and EVOO. Served with garlic mashed potatoes and vegetables of the day.

$21.99

Wine Pairing: William Hill Cabernet $9 - $34

New York Strip

A 20oz. hand-cut Angus strip, Chardboiled to your specification. Topped with mushroom gorgonzola cream sauce. Served with hand-cut garlic fries, tossed in a pecorino garlic aioli and veggies

MP

Wine Pairing: Joel Gott Cabernet $9 - $34

Junior New York Strip

A 12oz. hand-cut Angus strip, chardboiled to your specification. Served with hand-cut garlic fries, tossed in a pecorino garlic aioli

MP

Wine Pairing: Joel Gott Cabernet $9 - $34

Baby Back Ribs

Slow roasted fall off the bone ribs slathered with our smokin joe hickory BBQ sauce. Served with zesty lemon slaw and choice of French fries or garlic mashed potatoes

H $15.99

F $26.99

Pork Marsala

Thin sliced pork loin simmered in Marsala wine sauce over pasta

$23.99
Pollo
Vero Chicken

Sliced chicken cutlets, lightly floured & sautéed. Finished in a marinara cream sauce. Topped with farm fresh spinach, fresh tomato and imported provolone. Served over pasta

$25.99

Wine Pairing: Ménage a Trois Silk Red $8 - $30

Chicken Francese

Italian-American dish of flour breaded, egg-dipped, sautéed chicken with a lemon-butter and white wine sauce. Served over pasta

$24.99

Wine Pairing: Ménage a Trois Silk Red $8 - $30

Chicken Cacciatore

Lightly breaded chicken served in our homemade marinara sauce with black olives, onions, mushrooms, and green peppers over pasta

$24.99

Chicken Marsala

Sliced chicken breasts lightly floured & sautéed. Finished in a marsala wine/mushroom sauce. Served over pasta

$24.99

Wine Pairing: Ménage a Trois Silk Red $8 - $30

Chicken Parmesan

A classic Italian/American dish baked in our house marinara, served over pasta

$22.99

Wine Pairing: Red Rock Merlot $7 - $26
Pesce
Linguine & Clams

(When Available) freshly shucked clams, sautéed in a white wine, garlic & butter reduction. Served over linguine and topped with grated pecorino romano cheese

$24.99

Wine Pairing: Vicolo Pinot Grigio $6 - $29

Shrimp Fra Diavolo

Jumbo shrimp served in a moderately spicy homemade marinara sauce over a generous portion of linguine

$24.99

Wine Pairing: Echo Bay Sauvignon Blanc $9 - $34

Shrimp Cacciatore

Jumbo shrimp served in our scratch-made marinara sauce accented with mushrooms, black olives, onions, and green peppers over pasta

$25.99

Shrimp Scampi

Jumbo shrimp sautéed in a white wine reduction with butter and garlic served over pasta

$24.99

Wine Pairing: Echo Bay Sauvignon Blanc $9 - $34

Stuffed Filet of Sole

Fresh Atlantic Sole stuffed with snow crab and shrimp with a cracker filling and parmesan crust. Baked until golden and served with garlic mashed potato and vegetable of the day

$24.99

Wine Pairing: William Hill Chardonnay $9 - $34

Maine Lobster Ravioli

A delicious combination of lobster ravioli served with a rich cream sauce

$21.99

Wine Pairing: J. Lohr Chardonnay $9 - $34

Seafood Fra Diavolo

Fresh calamari, mussels, shrimp and clams tossed in a spicy marinara over linguine

$34.99

Tilapia Florentine

Sweet, milk tilapia fillets over a bed of spinach, sautéed in white wine, lemon and butter sauce

$21.99

Grilled Salmon

Fresh wild caught Norwegian salmon, served over risotto, tarragon risotto

$24.99
Side / A la Carte
Marinara Sauce Made Daily

$2.49

Pasta with Sauce

$6.99

Angus Meatball Made Daily

Ingredients including egg & cheese

each $2.99

Sausage

Made by Meadow Meats. Custom blend, no additives or by-products

$6.99

Fresh Ricotta

$3.99

Seasonal Vegetables

Seasonal medley

$4.99

Side House Salad

$6.99

Side Caesar salad

$6.99

Hand-Cut Battered French Fries

$4.99

Baked Potato

Butter and sour cream

$4.99
Panini
On our fresh baked breads
Chicken Pesto

Grilled chicken breast sliced thinly on a panini topped with roasted red peppers, baby arugula melted provolone and house pesto

$15.99

Goat Cheese & Prosciutto

Sliced prosciutto on a panini on a bed of arugula topped with goat cheese and local apricot preserve

$14.99

BLT Classic

BLT bulked up! Generous slices of bacon on a bed of romaine, with thin sliced "hot house" tomatoes grilled on a panini with mayo and provolone

$14.99

Portobello

Grilled portobello mushrooms, sundried tomatoes, romaine lettuce, roasted red peppers, pesto, and imported Swiss cheese

$14.99

*Additional toppings extra
12" Subs
On our fresh baked breads
Chicken or Eggplant Parm

Marinara sauce, provolone, pecorino, toasted

$15.99

Grilled Chicken or Cutlet

Provolone, romaine lettuce, tomato and mayo, toasted

$15.99

Philly Steak & Cheese

Sliced steak, caramelized onions, bell pepper, mushrooms and cheddar cheese, toasted with mayo

$16.99

Italian Bomb

Thin sliced imported prosciutto, genoa salami, capicola, pepperoni, provolone, red wine vinegar and oregano toasted

$17.99

Meatball

In house Angus meatballs, marinara sauce, provolone, pecorino, toasted

$15.99

Ham or Turkey & Cheese

Provolone, romaine, tomato, mayo, toasted

$14.99

Sausage and Peppers

Green peppers, marinara sauce, provolone

$15.99

Additional toppings extra
Children's Menu
Ages 12 and Under
Kristina's Chicken Crispers

Cut to order chicken strips. Chicken breast breaded & fried, served with choice of house potato chips, fries, or mashed potatoes

$8.99

Mikey's Macaroni

Pasta tossed in a white butter sauce, with a blend of cheeses. (A family recipe tweak on traditional mac & cheese)

$9.99
Pizza
Traditional Pizza

Tomato sauce, grated pecorino, EVOO, garlic, oregano

SM $9.99

LG $12.99

Cheese Pizza

Tomato sauce, mozzarella, grated pecorino, EVOO

SM $10.99

LG $13.99

Personal Pizza

A 10-inch version or our thin crust pizza (Toppings extra, excluding specialty pies)

$5.99

20" Calzone

Mozzarella, Ricotta, Parmesan. Includes side of marinara

$19.99

Toppings (price per item - sm/lrg)

MEATS: Pepperoni, Sausage, Salami, Bacon, Meatball - $2.55 / $3.50 | Roasted Chicken, Anchovy - $3.00 / $4.95 | Fresh Shucked Clams, Shrimp, Prosciutto - $6.95 / $8.95 | Fresh Mozzarella, Ricotta - $2.55 / $3.50

VEGETABLES: Black Olives, Broccoli, Spinach, Mushroom, Hand Sliced Tomato, Eggplant, Artichoke Hearts, Onion, Caramelized Onion, Green Peppers, Roasted Red Peppers, Basil, Hot Cherry Peppers $2.25 / $2.75

Stuffed Breads

Includes one topping

$16.99

Slices

Slices: 11am - 4pm Tuesday - Friday

Single Cheese $3.50

Single Veggie $3.75

Single Meat $4
Soup
Noni's Soup

Hearty chicken & vegetable soup with wheat pasta shells & tiny meatballs slow cooked in chicken stock, homemade

$3.99

$5.99

French Onion

Caramelized onions, rich beef broth, and toasted bread with melted Swiss chesse

$3.99

$5.99

Broccoli Cheddar

A simple blend of fresh broccoli and Vermont cheddar

$3.99

$5.99
Specialty Pies
SM | LG
Blanco

Mozzarella, baby spinach, fresh mushrooms with gorgonzola crumbles, pecorino and EVOO

$18.99

$25.99

Big Spud

Homemade garlic mashed potatoes with cheddar cheese, topped with crunchy bacon crumbles (whites)

$16.99

$23.99

Roasted Veggie

Slow roasted peppers, broccoli, zucchini, sliced tomato, caramelized onion, & mozzarella (red or white)

$16.99

$23.99

Meat Supreme

Red pie with mozzarella, sausage, pepperoni, bacon, meatball, onion, peppers, and black olives

$20.99

$26.99

Big Shrimp

White pie with mozzarella cheese, fresh marinated shrimp, garlic, oregano, pecorino and EVOO

$21.99

$27.99

Margarita

A classic red pie with fresh mozzarella, sliced tomatoes, basil, pecorino and EVOO

$16.99

$20.99

Antipasto

White pie with ricotta cheese, fresh baby arugula, cannellini beans, prosciutto, shaved pecorino and EVOO

$18.99

$23.99

White Clam

(When Available) White pie with mozzarella cheese, fresh-shucked clams, garlic oregano, pecorino and EVOO

$22.99

$27.99

Vegan Cheese

$17.99

$20.99

Gluten Free Cheese

Personal 10" size. Toppings extra

$10.99

Broccoli Rob and Sausage

(White) Meadow meats blended sweet sausage

$18.99

$23.99

Buffalo Chicken

(White) Spicy buffalo chicken, mozzarella, and Chuckie blue cheese sauce

$18.99

$23.99

Pulled Pork

(White) Pulled pork seasoned with maple barbecue, onions, bacon, and mozzarella

$18.99

$23.99
Dessert Pie
Berry Berry

Strawberry and blueberry on a sugar/cinnamon crust with sweetened ricotta cheese

$18.99

$24.99

Caramel Crunch

Sweetened ricotta cheese on a cinnamon crust, topped with melted milk chocolate, caramel, and heath bar crunch, topped with powdered sugar

$17.99

$22.99

Oreo Pizza

Sweet ricotta, crushed Oreo, powdered sugar, finished with Hershey's chocolate

$17.99

$22.99
Desserts
Limoncello Mascarpone

$6.99

Tartufo

$6.99

NY Style Cheesecake

$6.99

Tiramisu

$6.99

Cannoli

$2.99

Zeppoli

With homemade chocolate fluff dipping sauce

$8.99

Chocolate Lovin' Spoon Cake

$6.99

Carrot Cake

$6.99

Gluten Free Chocolate Cake

$6.99

Red Velvet Cake

$6.99

Oreo Mousse Cake

$6.99
Beverages
Fountain Soda

Cola, Diet Cola, Lemon-Lime Soda, Ginger Ale, Cranberry

$3

Bottled 16oz Water

each $1.50

Coffee / Espresso

each $3

Cappuccino

each $4

Milk or Choc Milk Kid's Cup

each $3
Appetizers
Crab and Shrimp Cakes (4 cakes)

These light, flavorful cakes are filled with roasted red peppers, tarragon, and smidge of saffron. Sautéed in clarified butter and a splash of fresh lemon

$10.99

Pigs in a Blanket

Nathans all-beef franks wrapped in our fluffy, homemade dough and baked to perfection!

each $2.99
Main Course
Creamy Tuscan Salmon

Featuring pan-seared salmon with spinach, hand-sliced tomatoes, garlic infused EVOO in a beautiful creamy Tuscan sauce. Finished with crispy crostini

$24.99

Chicken Saltimbocca

Sensational and simple — Saltimbocca means "jump in the mouth" fresh chicken breast lightly pounded and floured, wrapped with prosciutto, and topped with fresh mozzarella. Served over your choice of pasta

$19.99

Pistachio Lime Baked Salmon

Wild-caught salmon is the star of this dish with all the flavors, of pistachio and a touch of brown sugar, balanced with a splash of lime. The sweet aromas of Tarragon risotto finish this flavorful dish

$24.99

Saucy Brown Sugar Baked Pork Sirloin

These brown sugar pork medallions are seared to golden brown perfec-tion and bathed in a garlic, butter, and brown sugar sauce. Served with your choice of veggie or potato

$19.99

Broccoli Rabe and Sausage

The classic combination of broccoli rabe sautéed in garlic, EVOO, and our blend of sweet Italian sausage from Meadow Meats. Served over penne

$17.99

Creamy Sherry Pork & Mushrooms

This mushroom sherry cream sauce is SO addictive; sautéed mushroom and onions with a hint of garlic, infused with fresh thyme

$19.99
Dessert
Three Layer Carrot Cake

The natural sweetness and beautiful color of carrots make them the star

$6.99

Oreo Cookie Pizza

No dunking needed! Sweet Ricotta, crushed Oreo, powder sugar, finished with Hershey's chocolate

$16.99

$21.99

Gluten Free Chocolate Cake

This flourless cake, featuring both chocolate and cocoa, is rich, rich, RICH!

$6.99
Drink Specials
High Noon Sun Sips

Vodka Seltzer made with real vodka, real juice, and sparkling water. Only 100 calories, no sugar added, and gluten-free.

Watermelon, Black Cherry, Grapefruit, Pineapple

each $5

Bud Light Seltzer

All the flavor AND Gluten Free, 2g Carbs, 100 calories

Strawberry, Black Cherry

each $4
PACKAGES
starting at 30 guests
private bar, room and entrance private parking and handicap access a/v equipment (projector screen microphone, tv screens, and sound system)
PRICE PER GUEST EXCLUDING TAX AND GRATUITY
Note buffet-style packages. plated served and family-style available
Lite Luncheon

Choice of green salad, variety of wraps or sandwiches, pasta

$21.95

Pizza Lunch

Choice of green salad, variety of pizzas, pasta choice, 3 stuffed bread

$24.95

Basic

1 appetizer, 1 salad, 1 pasta, 1 entree

$26.95

Classic

2 appetizer, 1 salad, 1 pasta, 1 entrée

$32.95

Premium

2 appetizer, 1 salad, 1 pasta, 1 veg, 2 entrées (choice of one meat or fish)

$35.95

*Bread Service: Bread is baked daily and included with all packages
Ala Carte
Priced per guest
Roasted potatoes with fresh rosemary, Cheddar mash or Pilaf

$3

Cheese & Fruit

A selection of cheese crackers and grapes. Fresh seasonal melons and strawberries.

$4

Crudite

A colorful array of fresh vegetables with dips

$4

Antipasto Feast: Prosciutto Di Parma, Salami Sopressata, capicola, pepperoni, artichoke, various select cheeses $6

Calamari

$6

Coffee and Tea Bar

$5

Dessert: *cookies

$3

Mini Cannoli or Tiramisu

$3
Fish
Stuffed Sole

Crab-shrimp stuffed sole is gently poached in a light, aromatic broth and topped with a white wine–butter sauce.

Lobster/Crab Ravioli

Served in a red cream butter sauce reduction

Tilapia Francese

Lemony, sautéed tilapia finished with a smooth white wine sauce.
Chicken
Chicken Parmesan

Lightly breaded and fried. Baked in a marinara sauce and topped with mozzarella.

Chicken Marsala

A sweet marsala and mushroom sauce

Chicken Francese

A buttery lemon-wine sauce drenches lightly battered.

Chicken Cacciatorie

A zesty sauce with fresh bell peppers, italian tomatoes, fresh onion and fresh garlic.
Pork
Roasted Pork Loin

Succulent pork with fragrant garlic, rosemary and wine

Sausage& Peppers

Simple and delicious italian sausage (meadow meats) and peppers.
Beef
Roast Sliced Sirloin of Beef

Seared on cast iron
Other
Eggplant Rollatini

Fresh sliced eggplant egg washed and breaded than rolled with our scratch made filling. Topped with marinara and mozzarella

Eggplant Parmesan

Lightly breaded and baked in a marinara sauce and topped with mozzarella.

Lasagna

Meat or meatless

Ricotta Cheese Ravioli

With fresh marinara sauce
Appetizers
Caprese

Tomatoes, fresh mozzarella and fresh basil, topped with a balsamic reduction

Chicken Skewers

All white meat, in a oregano, garlic marinade.

Fried Mozzarella

Hand cut and breaded served with marinara

Stuffed Mushrooms

Large button mushrooms stuffed and baked. Vegan

Panne Cotte

Escarole and beans, a blend of stuffing, herbs, spices and Pancetta, sautéed then baked. Topped with mozzarella and pecorino.

Bruschetta

Including a variety of toppings
Salads
House Salad

Romaine hearts, english cucumbers, olives, cherry tomatoes and fresh croutons

Caesar Salad

Romaine hearts, shaved pecorino, caesar dressing (with anchovies), fresh croutons.
Pasta / Veggie
Penne Alla Vodka

Tender penne pasta tossed in a rich and delicious tomato, vodka and cream sauce, all topped with parmesan cheese.

Bolognese

Ragù alla bolognes

Pasta with Marinara

Tossed in our slow cooked marinara sauce simply brings all the flavors together

Baked Ziti

Loaded with mozzarella and parmesan cheese with seasoned tomato sauce

Vegetable

Choice of one, Green beans, broccoli, Zucchini

Note: alternate choices available on all items in packages
A burger day is a good day
Southside A-1

Ground beef with a dash of spices and A1 steak sauce. Served with lettuce tomato and mayo.

$18.99

The "Filthy" Burger

Ground beef topped with our own pulled pork smothered in bourbon barbeque sauce and smoked maple bacon, fried onions, and American cheese.

$19.99

The "Little Kick" Jalapeno Burger

A juicy, succulent, and cooked-to-perfection beef patty Served with lettuce tomato, pickles, and spicy chipotle mayo, and Cheddar cheese. Topped with a charred jalapeno.

$18.99
The "Frenchie" Burger

Savory and packed with flavor. Sauteed mushrooms and aged gorgonzola cheese compliments this burger with melted Swiss cheese.

$18.99

The "Average Joe"

Lettuce-tomato-pickles-mayonnaise- American cheese.
*All Angus burgers served on Texas Toast
*Compliments include with all burgers: tumbleweed fries and house-made N.Y coleslaw
*Substitute a small garden salad for fries and slaw
The prep: all burgers are fired and seared in their own cast iron and sautéed with compliments to bring all the flavors together before we build your burger. You deserve it!